Nantong Tianhe Mechanical Technology Co., Ltd. is a monograph on the aluminum electrolytic capacitor R & D and manufacture of automated production equipment, scientific and technological enterprises, the company was incorporated in March 2004, from Haimen Sanxin Electronic Co., Ltd. and Taiwan built the motor industry shares of real Co., Ltd. joint venture of the registered capital of $ 2,280,000. Company is located in Haimen Economic Development Zone, Jiangsu Province, located in Shanghai with just one thousands of miles across the river Yangtze River estuary, south of the Yangtze River, north of Nanjing-Qidong Expressway, Suzhou-Nantong Yangtze River Bridge west longitude direct Shanghai, southern Jiangsu cities and only one more than one hour, convenient transportation is conducive to the company's external communication and exchange, the advantage is very significant.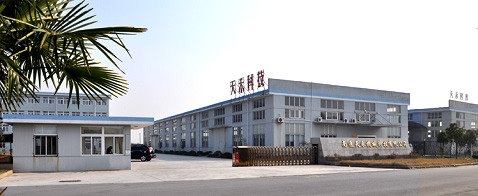 Company's main product for the whole series aluminum electrolytic capacitors automated production equipment, particularly in the polymer solid aluminum electrolytic capacitors, chip electrolytic capacitors, large-diameter aluminum electrolytic capacitor production equipment and other automated manufacturing research and development of prominent, the company has been established, has been There are a number of new products associated with this research project by the National Science and Technology Department of Jiangsu Province, project financing and other government departments.
Since its establishment, the R & D investment on the increase year after year, while keeping the market on hot business ideas, aimed at high technology, to seize the customer focus, and always reflect on their own weaknesses, open to the views of users, and continuously improve service quality, efforts to provide high quality and efficient service.
The company currently has 150 employees, 20,000 square meters of productive land, plant 3,500 square meters, the company set the administrative, personnel, finance, business, quality, logistics and production center management, including production centers under the jurisdiction of the two assembly manufacturing plant, a technology development department, technical staff engaged in R & D more than 20 people, including machine shop supporting a relatively complete variety of mechanical processing equipment, such as automatic CNC machining centers, car / milling / grinding machine and so on.

The company has a more complete technology development, site management, quality inspection and control system, with a good service and can meet the needs of business and customer service staff, quality first, customer satisfaction, the primary purpose of ensuring user confidence use our equipment.
◆ future vision
The company has been based on the results obtained will be closely tracking the world's aluminum electrolytic capacitor production equipment and the latest technological advances and development, continued investment in continuing R & D to high-tech, innovative and quality service to win customers, expand market to achieve the same glory with the customer base and win-win, fight for the interests of maximizing; the same time, companies are growing constantly sum up experience and lessons, weaknesses, continue to adjust their thinking, improve and strengthen the internal management, especially in quality management work, a reasonable allocation and optimization of company resources, and actively explore the market, contribute to the community, to enable enterprises to continuously gluten healthy, sustainable business.
Nantong Tianhe Mechanical Technology Co., Ltd. all up and down, to support and care for the majority of users of the enterprise, the industry sincerely thank! Thank new and old customers patronizing! Warm welcome to our factory for inspection, cooperation and investment, to create a better future!