【Character】
1, The machine is designed for slim type (pen) aluminum electrolytic capacitor assembly design and development of automated production equipment, through the feed pan plate approach to production scheduling. Group has been established, set hose, plus shrinking while the capacitor products.
2, the components of the equipment used electrolyte corrosion resistance, wear-resistant special stainless steel and high alloy materials processing. The shaft, bearing the original components are used, and the other is with the universal drive rod bearings, the entire mechanical drive reduces vibration, noise and make it play high performance, accuracy.
3 Department of the mechanical structure of the principle of precision machinery, with high reliability between PLC and control circuit components, in the operation process, the lack of materials and abnormal state, able to automatically and other material or stop, and it will alarm and the display will show lack of material tips.
4, the machine used: servo motor, precision segmentation, advanced linear slide to ensure accurate positioning of the equipment, stable, smooth flowing movement.
5, this machine is a special model, limited to the production of capacitors of this size.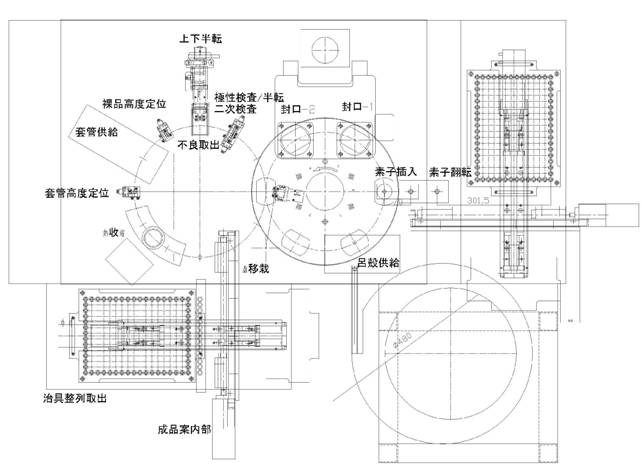 Applicable Standard Adjustment standard
| | | |
| --- | --- | --- |
| Product diameter | Product Trail | φ 10 * 50 |
| Machine Speed | Mechanical speed | 20-25pcs/min |

Power Efficiency Efficiency demand
| | | |
| --- | --- | --- |
| Voltage | Voltage | AC220V |
| Frerquency | Frequency | 50/60HZ |
| Capacity | Power Capacity | 3kw |
| Air | Air pressure required | 4kgf/cm 2 ( 5-10 kgf / cm 2 ) |
Approximate size and weight
| | | |
| --- | --- | --- |
| Size | Approximate size | 1500 ( W ) × 1500 ( D ) × 2000 ( H ) |
| Weight | Weight | 900kg |